FROM SWANSEA / O ABERTAWE - Wednesday 25th July - Dydd Mercher 25ain o Orffennaf 2018
This evening's Welsh Athletics Outdoor U20 International was hailed as another great success, as the best under 20 athletes from across the United Kingdom descended on Swansea University Athletics Track for this end-of-season midweek fixture. Held in Cardiff in recent years, the International moved further West down the M4 to the excellent facility at Swansea and saw a few Olympic, Paralympic and young stars out on show.
The excellent commentary and trackside music helped to boost the atmosphere with a great crowd having come out to watch the racing on a perfect evening for athletics. After a rather warm afternoon, cooler conditions followed early evening and this helped sprints and distance runners alike to produce some fast times and notable performances.
The event on Wednesday evening featured a match between Under 20 teams from Wales, England, Ireland and Scotland with one athlete selected per country and per event. Welsh Athletics' experienced team were joined by a Welsh Schools squad, who were invited to once again field a team as well as England, who saw each of its regions (North, Midlands and South) contest totalling seven competing teams. There was also a small number of guest runners having shown interest from various Welsh clubs.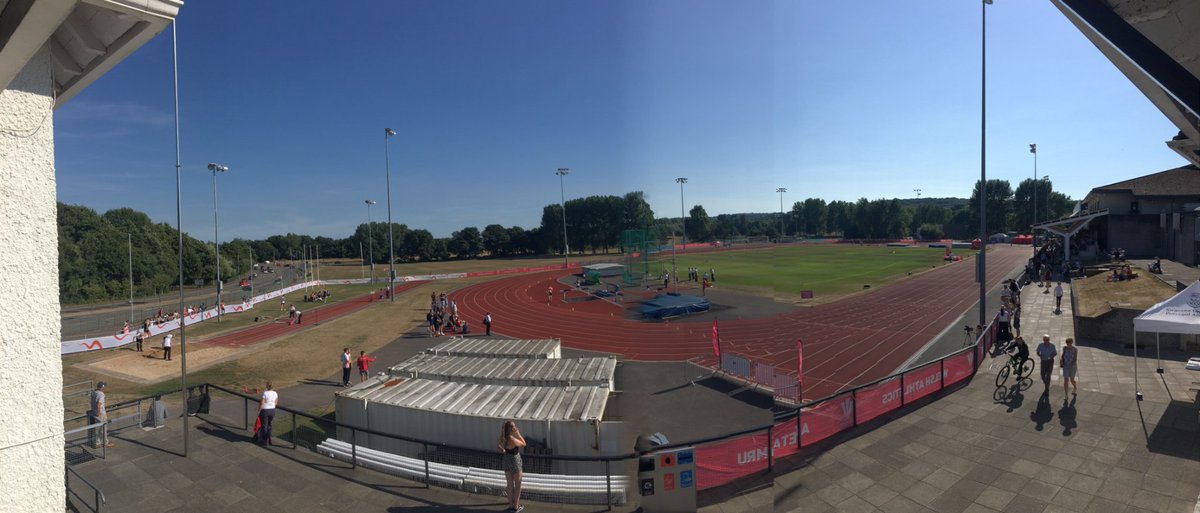 For those unable to be present, the afternoon and evening's events was streamed live online provided by VincoSport, who continue to provide excellent live commentary and text from the big athletics matches up and down the country and were on their first visit to the city of Swansea. Jack Zorab & Claire Thomas were on commentary duties talking viewers through the evening - On Demand footage now available to view from all events if you missed any of the competition.
Field disciplines started proceedings at 16:30 with the Hammer, Pole Vault, Triple Jump, Discus and High Jump for Men and Women, before it was finals all the way on the track around 2 hours later. After 35 events were completed as the sun set over the arena, the men's 4 x 100m sprint relay concluded a great evening's athletics shortly before 9.30pm and was followed by the post event presentations. Members and staff from Welsh Schools AA and Welsh Athletics were on hand to present the awards on the podium in front of the main stand.
Seven victories came to the red vests of Wales and in addition, another eight athletes finished in the top three placings.
Incorporated into the 2018 programme were the Under 15, Under 17 and Under 20 3,000m Welsh championship, held on the same evening. 33 athletes went in three races split up into under 15 boys and girls, under 17 and under 20 women and the under 17 and under 20 men. Welsh championship gold, silver and bronze medals were awarded with titles heading to the Llanelli AC, Cardiff Archers, Swansea Harriers, Bridgend AC & Cardiff AAC clubs.
Frank Morgan stayed with the leading pack for the under 15 boys' race and battled well to come through to take bronze in his first 3000m attempt at a major championships. He will aim to improve on his finishing time of 9:25:10 in the months and years to come!
Iestyn Williams was representing the Wales U20 team in the 800 metres. It was a very tactical race with the full group still together with a 100m to go. In the end, two athletes at the top end pushed and could not be separated by the photo finish equipment. Iestyn ran another race of sub 2 minutes crossing the line in Swansea at 1:58:17. Williams heads to the Celtic Games next in Scotland in 10 days' time.
Thanks to all who contributed towards a fantastic evening and the staff of Welsh Athletics. Further reaction, report and performances now available on the Welsh Athletics website.
WELSH ATHLETICS OUTDOOR U20 INTERNATIONAL - SWANSEA FULL RESULTS
CYSTADLEUAETH AGORED RHYNGWLADOL ATHLETAU CYMRU O DAN 20 - ABERTAWE CANLYNIADAU LLAWN