As the end of the season is fast approaching...The full weekend of Friday 10th August, Saturday 11th August and Sunday 12th August saw another action-packed three days of events at opposite ends of South Wales, the first in Myddfai on Friday evening, before it was all about Newport on Saturday followed by a trip down West to Haverfordwest to finish off...all the results catch up below!
There's been plenty of recent success for our junior athletes over recent weeks and months, having headed to several local races across Carmarthenshire towns and villages including at Ras Y Llychau Talley and Llangadog 10K. On Friday evening 10th August, it was the Ras Myddfai 4 mile and 8 mile near the village hall and in total eight Harriers had a great evening! They took eight of the first nine places in the overall standings.
Current members and future stars pictured below (from left to right) are: Steffan Davies, William Coles, Jake Lynock, Esme Lynock, Carys Wood, Alex Coles, Charlie Price and Scott Price.
Having been to Cardiff, Neath and Swansea over the last few months, the final destination for the Welsh Athletics Under 17, Under 20 and Senior League for this year moved onto Spytty Stadium, Newport for the fourth round on Saturday 11th August. The meeting was again open to all clubs affiliated or non-affiliated with unlimited number of competitors allowed. Differently to the previous three fixtures, there was a full round of events at Newport on the track and on the field held on a windy and wet afternoon.
Sadly, only a disappointing three members of the club seniors competed. Alicia Samuel ran another good 100m of 12.20 and now she turns to the Manchester International in midweek where she'll join the Wales' 4 x 100m quartet team. Rhys Homffray recorded times of 13.19 and 15.99 in the 100m and 100m Hurdles respectively whilst Danielle Jones was in throws action, with bests of 8.12m in the Shot and won the Women's discus competition with 31.45m.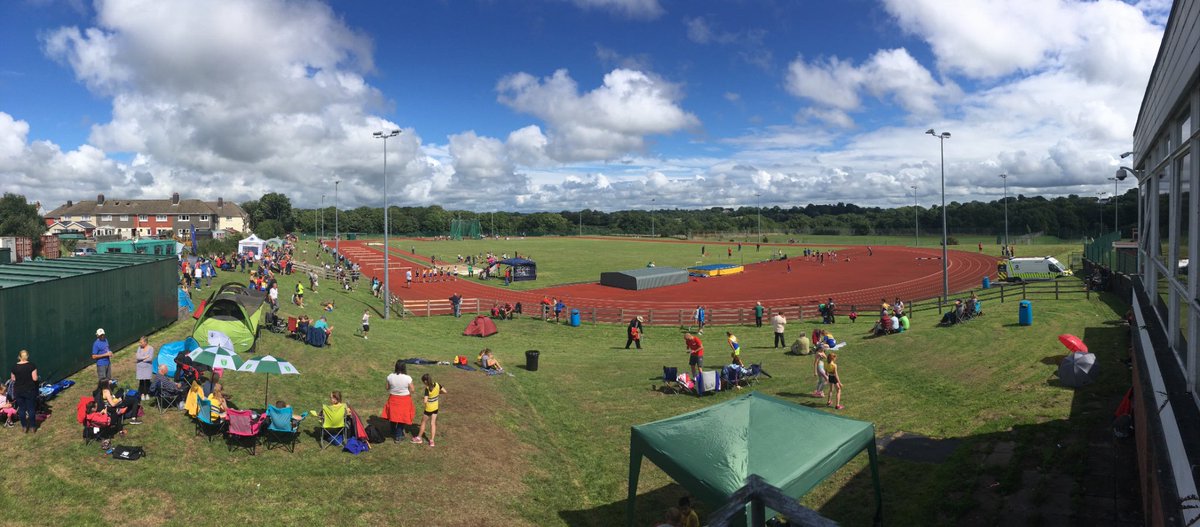 Sunday 12th August saw the Gerald Codd Trophy Match again take place further West down the A40 at Sir Thomas Picton School Track in Haverfordwest. This is the only event that Pembrokeshire host every summer and one of the highlights of the track and field year. Nearly 200 athletes and six clubs from Swansea, Pembrokeshire, Carmarthen, Llanelli, Neath and Bridgend were in attendance with parents, coaches and managers taking advantage of the grassed bank with its fantastic views across the arena.
With the same events and age groups to the Louise Arthur League, clubs were restricted this time round to three athletes per event with a shorter timetable in progress. The trophy match is arranged in honour of Gerald Codd who was a great stalwart of athletics in Pembrokeshire for many years. Corinne Codd was on hand to support the meeting and help present the trophies over to the winning captains.
As forecasted, it was a wet morning which carried on for the first three or four events before the sun came through the clouds and shone on all during the early afternoon on the youngsters as they aimed to perform on the track and in the field and score for their clubs. Two competition records were broken this year in the Under 15 girls' javelin as well as the Under 13 girls' long jump.
Making its first appearance at a competition on Sunday was the brand new discus cage which was officially opened by local thrower and GB athlete, James Tomlinson on Tuesday at STP after being two years without a facility to throw. This will now enable James to inspire future generations in Pembrokeshire to try out the discus and hammer throws disciplines. Commenting on the opportunities ahead, Tomlinson replied:
"The opening of a new cage in Pembrokeshire is brilliant - it means that I can train in my home county for the first time in a long time. I started my throwing career on the Astro Turf pitch, so if Pembrokeshire's young athletes are able to start their athletics careers by using a new throwing cage, then that can only be a good thing."
The closest race finish by far came in an excellent climax to the Under 15 boys' 1500m where Welsh International and Dyfed friends Adam Beer and Liam Edwards came down the home straight together in a sprint and crossed in a blanket finish on the line, both receiving a time of 4.18.8. The track judges decided to give the win to the latter on the verdict.
In general, the summer holidays and people going away meant that the team was not as full as what has been seen throughout the Louise Arthur League campaign over the season. However, the 40-plus or so Carmarthen Under 11, Under 13 and Under 15 athletes available travelled in the opposite direction to usual to take part and all performed well with great team spirit within the camp around the brand new club tent.
Thanks to Katherine Jones and Julie Coles for assisting Hayley and Cressy with on the day team managing duties as well as the small army of volunteers who judged over at the long jump pit for most of the day.
Carmarthen Harriers' Juniors Out on the Road By Age Group:
UNDER 11 / O DAN 11
Tom Williams; Cai Allen; William Coles; Alex Coles; James Sloyan; Jac Jones; Daniel Warrender; Tristan Warrender
Beatrice Morgan; Jessica Norman; Soffia-Mai Davies; Martha Morgan; Ellie-May John; Louisa Reid-Thomas
UNDER 13 / O DAN 13
Owain-Hari Davies; Ellis Caddick; Zach Elvy; Steffan Davies; Rogan Cox; Jack Thomas; Eric Buck; Osian Roberts; Kacper Krawcewicz; Samrat Ghosh
Sophia Reid-Thomas; Megan Roberts; Chloe Hale; Bessy Hill; Carys Wood; Jessica Lee; Mati Morgan; Elen Williams; Amy Greatrick
UNDER 15 / O DAN 15
Dafydd Waters; Dafydd Jones; Morgan Batten; Liam Edwards; Ieuan Phillips; Joshua Morse
Zara Evans; Ellie Loweth; Emma Adams; Hafwen Addis; Rosie MacGrath; Nia Williams
U11G 4 x 100m: Beatrice Morgan, Soffia-Mai Davies, Martha Morgan, Ellie-May John
U13G 4 x 100m: Sophia Reid-Thomas, Megan Roberts, Chloe Hale, Jessica Lee
U11B 4 x 100m: Tom Williams, Cai Allen, William Coles, James Sloyan
U13B 4 x 100m: Owain-Hari Davies, Ellis Caddick, Zach Elvy, Jack Thomas
U15B 4 x 100m: Dafydd Waters, Dafydd Jones, Liam Edwards, Morgan Batten
Our thanks as usual go to the full team of members, parents, managers, coaches and officials of Pembrokeshire Harriers (many who were there early in the morning) for their usual warm welcome and well organised event in front of and behind the scenes. Not forgetting Jo Wood (Swansea) as well as all the officials, coaches and athletes on the day!
Welsh U17, U20 & Senior League - Newport Results / Canlyniadau o Gasnewydd
Gerald Codd U11, U13 & U15 Trophy Match - Haverfordwest Results / Canlyniadau o Hwlffordd